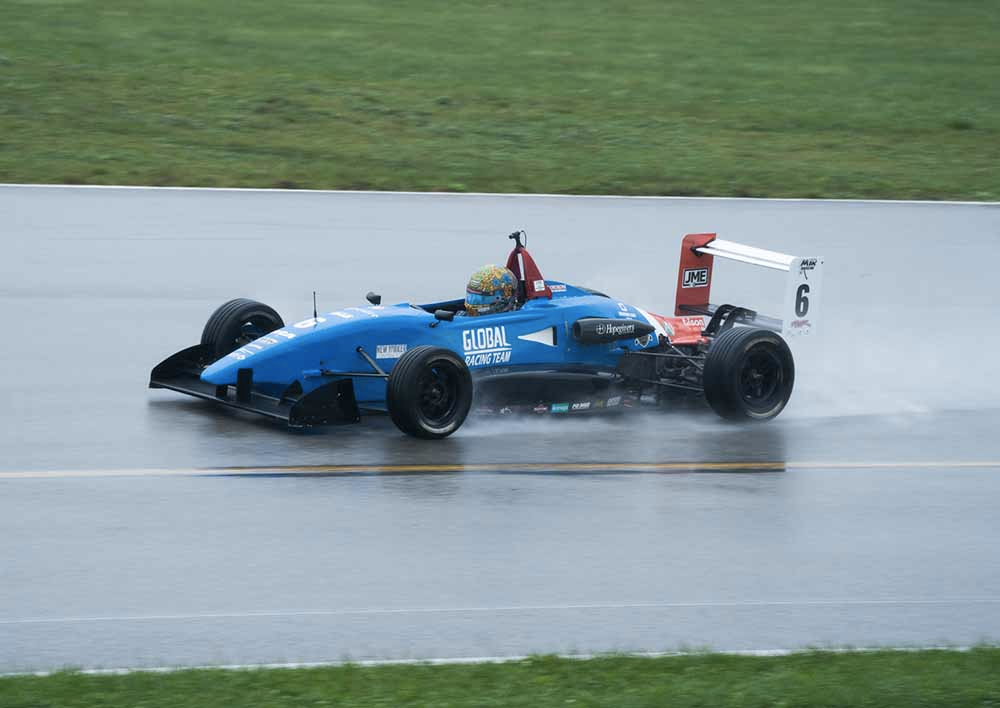 With eight event weekends now complete at some of the nation's best and most prominent racing facilities, the 2021 Formula Race Promotions (FRP) has come to a close. Wrapping up this past weekend at the Pittsburgh International Race Complex (PittRace), FRP had another terrific weekend of competition crowing series champions as the focus shifts towards the 2022 edition of the program.

In a weekend that featured both wet and dry weather competition, FRP drivers were able to gain experience, knowledge, and develop skills needed to advance their careers once again. Sportsmanship continues to be at a high as competitors also get the best bang for their buck in open-wheel racing in North America.
"Following the 2020 Covid stricken season, we were not sure what to expect in 2021," explained Bob Wright. "Returning to the paddock as a series, we were met with teams and competitors that pushed us through the season and provided some great competition. Our partner series provided the support needed to put on great race weekends and the help and support from the tracks were second to none. Thank you to all our teams, drivers, families, partners, sponsors, and supporters for a solid 2021 season. 2022 is just around the corner."
Wright continued, "Congratulations to our winners this weekend as well as our 2021 champions. FRP has helped launch the careers of many and we hope that speaks volumes to the future competitors in our program. Might I add that we had 47 different drivers compete in the F1600 class which is an incredible stat and shows solid growth in the program."
F2000
Qualifying – Race 1
1. Vaughn Glace – 1:50.098
2. Trent Walko
3. Austin Hill
In 2021, FRP introduced into its F2000 Series the FC Classic class, allowing competitors using the SCCA Club Hoosier Bias tire spec to race with FRP but not for points or podium. In the first F2000 race of the weekend, it was Trent Walko [Global Racing Team] who reigned supreme to take another win on the 2021 season as well as the fastest lap of the race. Crossing the line in the second position was Austin Hill with Robert Wright landing the third spot and Gabriele Jasper just missing the podium in 4th, producing a Van Diemen chassis sweep of the top 4 finishers.
Qualifying – Race 2
1. Vaughn Glace – 1:40.434
2. Dave Weitzenhof
3. Robert Wright
For the F2000 race 2, FC Classic Competitor Vaughn Glace secured the pole position ahead of veteran Dave Weitzenhof, who returned to racing just six weeks after hip surgery and went on to cross the stipe ahead of the field. On the podium, it was Austin Hill on top joined by Nathan Byrd in second with Robert Wright again taking the third spot just ahead of Gabriele Jasper. Trent Walko spent three laps of the race in the pits but returned to the track to lay down a new track record and then beat his own record with a time of 1:39.182. The top three finishers, Glace, Hill & Byrd, with a combined age less than many of their fellow competitors, all exclaimed what a great car and class the F2000 is and how they are looking forward to the competition in 2022.
"Thank you for a great season," added Clay Hutchison. "We hate to see race season end, but it makes us excited and that much more motivated for our 2022 campaign. Stay tuned for our 2022 FRP schedule soon."

This article is an excerpt originally published to the FRP website. To read the full article, click here.